Get the floor you've always dreamed of with stained concrete
If you're looking for a truly unique flooring solution that is as durable as it is beautiful, consider stained concrete. Concrete has come a long way from its industrial origins to becoming one of the most popular, versatile and stylish home design trends. Today's custom stained concrete floors offer unlimited options when it comes to color and pattern.
Often spotted in restaurants, bars and shops, where high foot traffic demands a surface that is long lasting and easy to clean – yet attractive, stained concrete floors can provide the same durability in your home, whether in a kitchen, bathroom, rec room or finished basement. The most beautiful part is that no two are exactly alike. Each stained concrete floor CustomCrete creates is one-of-a-kind, with variances in color and "veining" that can't be exactly replicated. Your floor will be unique to your home, in a tone and pattern perfectly suited to your taste.
Stained concrete easily adapts to and looks great in any type of décor, from the extremely modern to the more traditional. With the right pattern and polish, they can look nearly identical to marble (at a much lower cost) for a more elegant feel. Or you can "go bold" with bright colored stains like green, blue or red.
Concrete floors are ideal for areas where you entertain frequently as they can take a lot of traffic and won't be damaged by water or other spills and accidents. Literally "stain-proof," these floors won't peel, crack, chip or fade.
If your house has a concrete slab beneath your existing flooring, it's a very simple process. We simply remove your existing floor, clean and prepare your concrete slab, stain it and finish it. It's much easier and more cost effective than laying tile or installing laminate. Our design consultants can help you choose the perfect design and color palette for your taste. View our stained concrete Gallery for inspiration and contact us to discuss your project or get a quote. We are St. Louis' custom stained concrete experts.
How to Get StartedCustom Concrete Styles for Homes and Businesses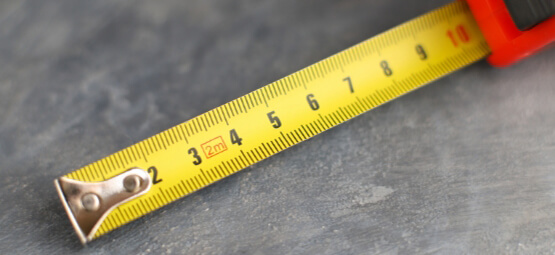 Want a quick bid?

Watch our video to see how easy it is to measure your space and request a quote.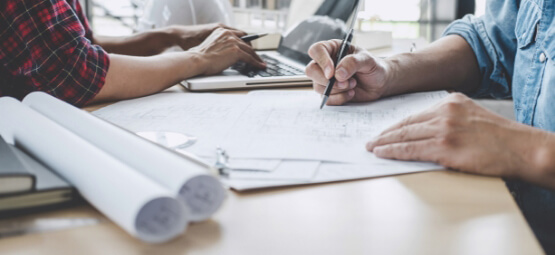 Need assistance?

Schedule an estimate and one of our team members will measure your space for you.