Epoxy Garage Floor Installers in St. Louis
CustomCrete's epoxy garage floor installers go through a thorough installation process outlined below so you can get the most out of your epoxy floor.
Epoxy Flake Floor Installation
Epoxy Flake Floor is a fluid applied, decorative floor coating consisting of a combination of epoxy primers, epoxy resin coatings, polyaspartic resin coatings and protective urethanes. The finished look is meant to simulate that of terrazzo at a fraction of the price yet provide a seamless floor that is easy to clean and maintain.
Surface Preparation
The concrete must be structurally sound and any repairs in the surface will be made in advance of the epoxy flake floor. The surface will be prepared with a diamond grinder to remove any previous sealers and/or contaminates. This will also remove the top layer of cement paste and give the floor a surface profile of 3, which allows for maximum adhesion. Wet type surface preparation such as acid etching or power washing is not recommended.
Random cracks and control joints will be filled with a polyurea crack filler and then ground to be flush with the floor.
Vapor Barrier
In some cases epoxy vapor barrier and primer will be required to protect against rising water or air vapor. However, this is an optional application but is recommended. The minimal cost increase far outweighs the risk of future epoxy failure due to moisture transmission.
Application
After the floor is properly prepared installation of the base coat can begin. There are several "typical systems" that can be used, but generally we start with a 100% solids pigmented epoxy. The epoxy is poured on the floor in ribbons then spread with a squeegee and/or a 3/8" lint free roller.
Once the base coat is evenly applied to the floor the color flakes can be applied. Special spiked shoes are worn to allow the certified applicator to walk in the wet epoxy and broadcast the color flakes at a coverage rate of 5-7 square feet per pound. This is significantly more than any DIY kit. Once the entire floor is evenly covered in flakes we let the floor cure.
Once cured and dry, we remove excess loose flake with a broom or vacuum. Then we'll scrape or screen the floor, and vacuum the floor again.
Now that the floor is clean of all loose flakes the top coat can be applied. Depending on the needs of your floor there are several top coat options available. For a general-purpose floor, a 100% solids UV resistant, clear high gloss epoxy is used. Your floor is ready for full traffic in 24 hours.
How to Get StartedCustom Concrete Styles for Homes and Businesses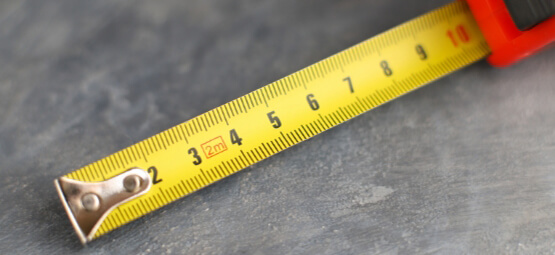 Want a quick bid?

Watch our video to see how easy it is to measure your space and request a quote.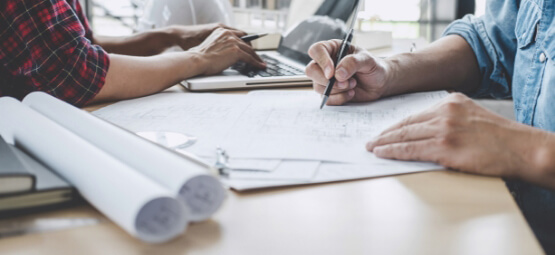 Need assistance?

Schedule an estimate and one of our team members will measure your space for you.