Testimonials
"They were professional and did everything that was promised."
Craig and his team did an excellent job on our patio. They were professional and did everything that was promised. I would highly recommend Customcrete and will use them again in the future.
~ Steve DeJohn ★★★★★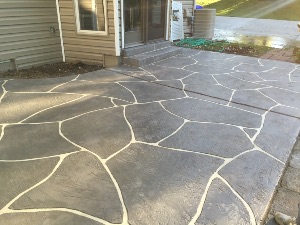 ---
"Couldn't be happier."
Both Craig and Grant were very attentive to the project. Enthusiastic and helpful with recommendations for the challenges this project posed to us. Finishers wer very skilled, hard working and friendly. The finished project was exactly as I expected. Could not be any happier.
~ Kay Brown ★★★★★

---
"A great company with courteous employees."
From the beginning, this was a great company to work with. Grant came out and did the measuring and assessed the driveway and front porch. After signing the contract, Craig was the supervisor who oversaw the entire job. He was here every day to oversee the project. The employees of CustomCrete were very professional, and did an outstanding job. The job site was cleaned up every day before they left. Numerous neighbors and passerbys commented on the great job that was being done. One motorist from another company stopped to get the name of the company as he had "never seen such a great job." Another neighbor knocked on my door to get the name of the company, and commented on what a beautiful driveway. Any concerns I had during the project were immediately addressed to my satisfaction. I highly recommend CustomCrete to anyone needing new concrete or replacing existing concrete. A great company - with professional and courteous employees. CustomCrete will always get 5 stars from me.
~ Trudy Steiger ★★★★★
---
"Great job, wonderful to work with."
CustomCrete, thank you for a great job. we are very happy with the patio, your company was wonderful to work with.
~ Paul and Anne Keeven
---
"Fantastic job!"
Grant, thank you very much my driveway and sidewalk look great. you and your crew were wonderful to work with. see you on my next project. FANTASTIC JOB. ~ Tony Naughton
---
"Couldn't be more satisfied."
Grant, It was a pleasure working with you and your team. I couldn't be more satisfied with either the outcome or the process, CustomCrete made it all so easy. I love my new side walk garage floor and driveway. Thank You.
~ Pat Magee
---
"The results were amazing and exactly what I was looking for!"
I'd like to thank Grant, Craig and Custom Crete for creating the look that I wanted in our newly built wine cellar. We chose a stained concrete floor finish which looks awesome. However, I had also requested a concrete counter top and arched back splash with "grapes" which I thought would like nice in a wine cellar. I did not have a picture to show them so, not really knowing exactly what I was looking for, Craig took my idea and created his own mold of grapes for the concrete backsplash. I must say the the results were amazing and exactly what I was hoping for. They took my idea and made it possible. I would most definintely recommend their company and services to anyone. Everything was done quickly, efficiently and at a reasonable cost. What more could you ask for!!
~ Jill Kickham
---
"Best investment in our home yet!"
In just days, our basement floor went from boring gray concrete to beautiful terracotta "marble". Our friends "ooh and ahh" whenever they see our basement. We absolutely love the look and feel of our stained concrete! Not only was Grant professional, he added pizzazz to my once blasé basement.
~ Matt and Sharon Shoemaker
---
"Neighbors are envious."
The decorative concrete work that Grant Pointer and CustomCrete did on our driveway is simply beautiful. We were very satisfied with everything, from the bid process, to the work efficiency, to the finished product. We constantly have people asking us about our driveway and, without hesitation, we let them know how happy we are with CustomCrete's work.
~ Kevin and Barbara Lohbeck
---
"I will continue to recommend CustomCrete to our clients."
I have been very pleased with the installation and professionalism which CustomCrete has produced on our projects. They make sure that our clients are privy to their schedule; that the colors, textures and applications are exactly what they want and make sure all parties involved are on the same page. I have and will continue to recommend CustomCrete to our clients; and I have found that no job is too large are too small.
~ Matthew D. Mayer; Vice President
---
"I would definitely have CustomCrete work on other projects."
My husband and I were delighted with the work that CustomCrete did for us. From the initial meeting for an estimate to the very end, Grant and his team were extremely courteous, pleasant, professional, and thorough. We were impressed with their attention to design, details and the quality of work. The CustomCrete team was very neat and clean while the project was ongoing and did a great job cleaning up when they were finished. We found there prices competitive and the finished product exactly what we were hoping for. I would definitely have CustomCrete work on other projects at our home.
~ Kim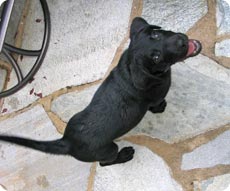 ---
"I recommend you give Craig a chance to bid your work."
Craig from Customcrete worked on our neighbors driveway and I liked his work and asked to look at mine. It was clear to me (and Craig) it needed replacing. The day before the work was to start, Craig called me to explain that given the weather prediction, it would be wise to delay until the rains were scheduled to start. I totally agreed and really appreciated the call. Once the weather cleared, Craig and his crew were very efficient in getting the old concrete removed and laying down a very nice new driveway! Once dried, he came back to repair the area in the lawn where the forms were set by putting down fresh soil that I then seeded. I was very pleased with that. The site was cleaned up well and I would recommend you give Craig a chance to bid out your work.
~ Mike Ring ★★★★★
Start Your Project Today
Schedule an appointment to visit your site, discuss your options, as well as the CustomCrete process.
Schedule an Estimate