Spray-Deck Resurfacing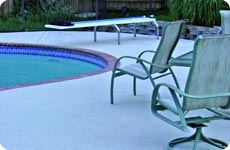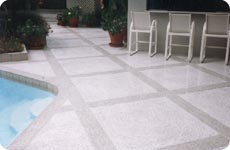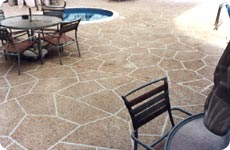 Keep It Simple
Many homeowners feel that stenciled or stamped concrete looks too busy for their house. Spray-Deck resurfacing gives customers the chance to maintain a simple, clean look to their concrete without making it appear unfinished.This resurfacing technique results in a richly textured surface that is often cooler than traditional concrete.
Elaborate with Concrete Resurfacing Products
Of course, spray-deck resurfacing can also be combined with stamping, stenciling, or staining to create a more layered, complex, or intricate look. Staining in particular can emphasize the sprayed texture by creating more contrast between light and shadow than gray concrete. CustomCrete offers several spray-deck resurfacing products, which come in a wide range of colors to perfectly compliment your home.
In addition to visual appeal, spray-deck concrete is the safest resurfacing choice. The light texture of this resurfacing product makes concrete is less slippery than smooth concrete, making it perfect for pools, rooms for the elderly, or anywhere children are likely to run around.
Our Contractors Are as Good as Our Products
Some homeowners worry they will invest time and money in a project that ultimately does not resemble what they originally imagined. However, our concrete contractors will lead you through the design process to ensure you get exactly the look you want with our concrete resurfacing products. So contact CustomCrete to resurface your concrete today.
Learn More About Spray-Deck Resurfacing

Gallery

Integral Colors

Solid Color Stains
View samples to add texture to your stamped concrete patterns.
How to Get StartedCustom Concrete Styles for Homes and Businesses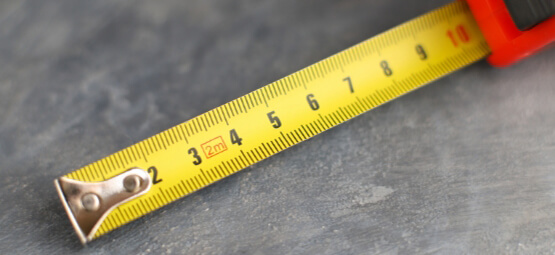 Want a quick bid?

Watch our video to see how easy it is to measure your space and request a quote.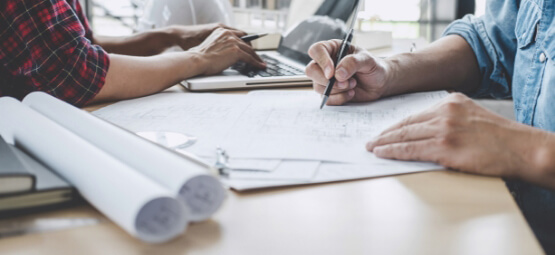 Need assistance?

Schedule an estimate and one of our team members will measure your space for you.