Stamped Concrete Resurfacing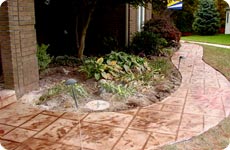 Stamped concrete patterns create a pleasing, regular pattern for your concrete, which can be colored to resemble slate, stone, or brick. This style is especially popular in St. Louis, where brick homes are a norm, or in St. Charles, where slate and stone patterns compliment a wide variety of house sidings.
Aesthetic Appeal Without Typical Side-Effects
In addition to looking like slate, brick, or stone, has many benefits that actual brick or stone do not provide. While loose bricks and stones can dislodge over time, stamped concrete stays solid and doesn't require constant repair. Also, concrete can be stained almost any color, so you don't have to feel constrained by the natural colors of brick and stone. This pallet freedom means your stamped concrete surface can compliment any home's color theme.
Where and How to Apply Stamped Concrete Patterns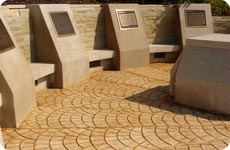 Many people opt for using stamped concrete outdoors, because it is the most durable material and method for high-traffic areas exposed to the elements, such as walkways or pool decks. However, this resurfacing technique also has many indoor applications. Some homeowners prefer stamped concrete for their kitchens, foyers, or around fireplaces.
CustomCrete uses a variety of stampable resurfacing brands, which can be manipulated in many different ways to add texture and flow to your stamped concrete patterns. We will help you find the perfect resurfacing product for your vision during our common procedure consultations.
To begin resurfacing your concrete with one of our stamped concrete patterns, call CustomCrete now. We'll transform your damaged, ugly, or old concrete into a new, continuous, beautiful surface.
---
Learn More About Stamped Concrete Resurfacing
Start Your Project Today
Schedule an appointment to visit your site, discuss your options, as well as the CustomCrete process.
Schedule an Estimate