Concrete Stenciling
Concrete stenciling gives homeowners the opportunity to add detail and pizzazz to their new or old concrete floor. The professionals at CustomCrete are particularly talented at using Spray and Trowel Resurfacing, to help blend enlargements to existing driveways, patios, and other concrete spaces. We work to make your final product look like a consistent, uniform piece, rather than a series of disjointed add-ons.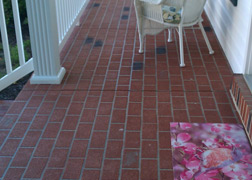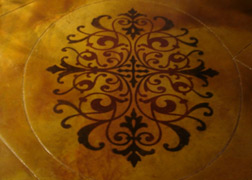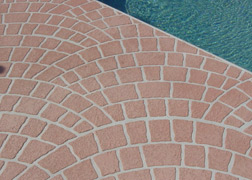 Our subtle and attractive stencils compliment their concrete surroundings without overpowering the rest of your home. Choose from a wide selection of structured, abstract, intricate, or simple designs to match the style and personality of your home.
Does your room or yard have a piece of 'crowning glory'? Concrete stenciling can be used to draw the eye to an object you wish to highlight, such as a particular piece of furniture, a statue, or a fountain. Choose a more ornate design for an "area rug" effect that is easier to clean than any carpet. Use stencils inside and out to add texture or design to any walkway, garden, patio, kitchen, or living room. Or use it to break up a large, boring stretch of space and make it more dynamic.
Stencils can be applied to new or existing concrete and can be combined with a variety of other techniques. For instance, concrete staining can turn your floor into a stunning mosaic. CustomCrete can apply different colored stains to achieve different visual effects.
Contact CustomCrete today to learn about all of the concrete stenciling options available. Based in St. Peters, CustomCrete is here to serve customers throughout the St. Louis are.
How to Get StartedCustom Concrete Styles for Homes and Businesses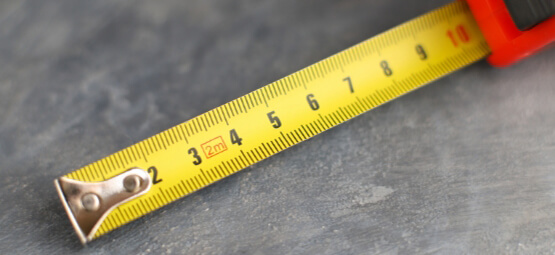 Want a quick bid?

Watch our video to see how easy it is to measure your space and request a quote.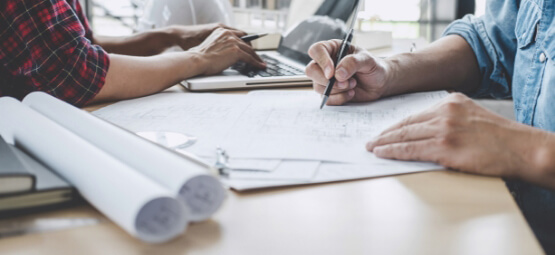 Need assistance?

Schedule an estimate and one of our team members will measure your space for you.